Wednesday, August 11, 2004
August 10 Eaton for Congress Fundraiser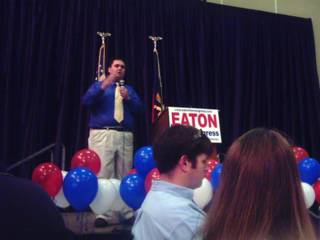 Roger Eaton at the August 10, 2004 fundraiser in Morehead City. Roger gave a great speech about the return of accountability to our Congress. He emphasized the importance of his monthly town hall meeting plan, as well as the hypocrisy of other candidates railing against "immorality" while millions are immorally without health insurance.
Sean Conner, a candidate for Carteret County Commissioner, also gave a brief speech during the event.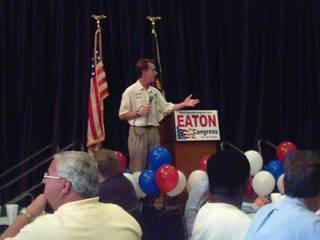 Many more photos from Tuesday's fundraiser are available at
Island Dave's Photoblog
.
If you live in one of the 17 counties which make up the NC-3 district, please give whatever aid you can to Roger's campaign. With less than three months until election day, every dollar you can spare will help him tremendously. Walter Jones is an entrenched, apathetic politician with little interest in regular people in his district, and caters strongly to PACs and special interests. Visit
Roger's campaign site
for more information.